The walls of Dehradun are getting back their old beauty, thanks to a bunch of cleaners

17-August-2012
Vol 3&nbsp|&nbspIssue 33
One of the first things that struck me when I arrived in Dehradun to evaluate the city's garbage problem was the sheer volume of posters everywhere.

There were all kinds of them. Politicians print 10,000 at a time and put it up all over the town. You see up to 50 posters of the same kind plastered on any one wall or bus stop.
Volunteers of 'Let's Clean Doon Together' at work
I was curious to see what the walls of Doon actually looked like underneath all those layers of paper.

One of the first walls that caught my eye was the 'Waterworks Wall', an 80-metre red brick wall.

There is an interesting story to the wall. It was constructed in 2007 by the then district magistrate of Dehradun, Dr. Rakesh Kumar, a dynamic officer. It was built in place of an earlier wall, which had to be demolished to make way for the widening of Rajpur Road.

Since the wall was situated at a place where vehicles from Punjab, Haryana and Himachal entered the city, it was decided to build a beautiful wall that would also carry a welcome message to the visitors from the Chief Minister.

That's how the present day wall came into being. But soon the wall became yet another victim of the poster menace and became an eyesore - a far cry from being a landmark.

As part of 'Let's Clean Doon Together' campaign funded by our supporters Max India Foundation, the Mountain Cleaners team set out to work and soon restored the wall to its former glory. The wall was scraped and scrubbed to make it poster free.

Fly postering is banned under the Public Defacement Act 2003, but the law is not enforced and even municipality buildings, government signs, and police booths are targeted and strewn with posters with no repercussions.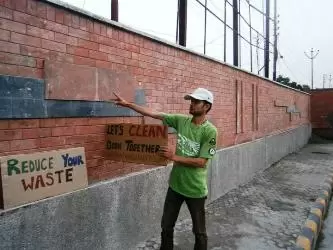 There were thousands of posters destroying the beauty of Dehradun. We wanted to clean as many walls as possible.

We then chose a particularly ugly wall at Darshanlal Chowk and obtained permission from the mayor to paint it with an environmentally themed wall mural.

The rain made things tough, the sun made us pour with sweat, nothing went smoothly (as it never does) but guess what, we came up with a lovely product and it was an awesome experience.

Sandeep, a local artist, and Surender, a sign painter, provided by Doon Valley Waste Management worked hard to make the project a success along with the Mountain Cleaners team and created a wall mural to educate and inspire the city.

We received lots of words of encouragement and thanks from locals and passersby and it was certainly worth all the effort.

Another amazing transformation took place at a bus stop at Astley Hall. We were able to turn the ugly bus stop into a work of art, thanks to local artist Santosh and our volunteers.

The post office is an integral part of every town and Dehradun is no exception. But its wall was in a miserable condition.

Scores of posters were pasted along the wall, construction waste was dumped on the pavement and hardly anyone could remember what the wall looked like before it was a mess. We decided it was time to show them!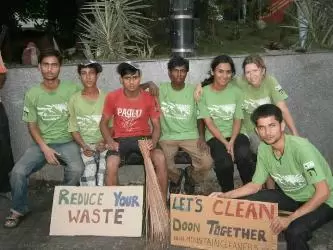 Passersby were amazed to see us hard at work and slowly unveiling an attractive grey marble wall. This wall and our other transformations are still poster free and we intend to keep them that way.

We hope that by bringing attention to this matter we can encourage the community, the municipality, and the administration to take action and support us in our endeavors.

If we peel back those layers of paper and work towards keeping the walls clean we can reveal Doon's former beauty for all to see. We have permission to paint nine more murals and are planning a Wall Mural Competition after the monsoon

Why don't you adopt a wall in your own town? Stripping off posters gives an immense sense of pleasure and achievement and keeping them poster free is possible with just a little bit of effort. Feel free to contact us for more details by emailing [email protected]

Jodie Underhill is Founder and Managing Trustee of Mountain Cleaners

Trending Now: