The Indian whitening cream market is expanding at a rate of nearly 18% a year

27-July-2012
Vol 3&nbsp|&nbspIssue 30
Advertisements are created to educate consumers about products, focus on building a trust between estranged consumers and the intangible manufacturing companies or service providers, and ultimately influence consumerism.

Advertisements inundate our senses through various media such as television, radio, newspapers, books, cell phones, billboards, packaging and websites.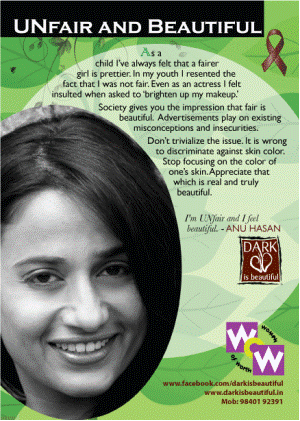 Most often the message of the ads is the same: If you don't like something, we're here to help you change it!

However, this hint of seemingly reasonable concern masks a web of subtexts and persuasion techniques that play on our minds while we contemplate how to spend our money.

Fear and insecurity play a vital role in influencing our buying habits. For instance, almost every bride starts a beauty regiment months before the wedding in fear of not looking her best on her special day.

The cosmetic industries are well aware of this fact and with clever advertising have created a scenario where they provide 'amazing' solutions to supposedly grave situations. With an onslaught of messages formulated around fear, the consumer is trapped in a maze of insecurity.

The Fastest Moving Consumer Goods

It doesn't take a brain surgeon to notice the emerging fairness products that are flooding the market presenting themselves as the remedy for our endless beauty needs, as our savior from the terrible heat, as a guidance counselor helping us land a job or as the ultimate marriage broker pouring love and joy into our lives.

An industry that once was associated with Fair and Lovely and Vicco, now includes international heavyweights like Ponds, Dove, Vaseline, Nivea, L'Oreal, Garnier, Nuetrogena, and Emami, with more joining them every year.

We can't escape the television and print ads that subconsciously leave their mark on us.

Just as the unimaginative lyrics of the trendiest teeny bopper pop sensation somehow creeps its way onto our unguarded lips, our minds are also aware that a damsel clad in yellow rompers (in this case, actress Priyanka Chopra) and a Dalmatian pup are selling Garnier Light, the leading fairness product in 2011.

With the new wave of social media advertising, companies are able to reach their target consumers and provide real time advice on instant messenger services, encouraging them to share their personal stories on various online forums, and influence consumption for a fraction of the cost.

Dr. Susan Sridhar, the Dean of Media Studies at Hindustan College of Arts and Sciences, Chennai, is well aware of this phenomenon: "The obsession with fair skin is being called the 'Snow White syndrome' in India, a market where sales of whitening creams are far outstripping those of Coca-Cola and tea."

The Nature of the Beast

Dr. Sridhar observes: "One of the main reasons for high standards of beauty being imposed on young girls and women is pure economics.

"A multi-billion dollar economy is built on our insecurities about the size, shape and colour of our bodies. The main idea is to make us feel insecure about ourselves and then sell a product that will assumedly make us almost perfect as the models we see on screen."

She points out that, "Research indicates that this feeling of insecurity among youngsters in particular leads to depression, lack of self confidence, and an unhealthy lifestyle."

If you're still debating whether the creators of these messages really have consumers pegged and use media to influence confidence and self-worth, then consider these simple facts:

1. The advertising guru and the architect of the Fair and Lovely ads, Alyque Padamsee, wrote in the March 2012 edition of OPEN Magazine, "My biggest breakthrough on human behavior…was Fair & Handsome, a fairness cream launched as recently as 2005 by Emami. Here, I discovered that the Indian male is as vain as the female when it comes to his looks and attractiveness to the opposite sex. Hindustan Lever's Fair & Lovely, which had led this fairness market for decades, had been sleeping over this vital clue."

2. Based on a survey published on their website, Vaseline Healthy White claims that, "8 out of every 10 women in India believe that fair skin gives them an additional advantage in Indian society". They also stated that, "Women today believe that if life was a beauty pageant, fair would take the crown"

3. Having tapped into another emerging market, the makers of Fair and Handsome for men, Emami, achieved sales of $13m within three years of the products' launch. A recent study by Hindustan Unilever showed how men in southern states like Tamil Nadu, Kerala, Andhra Pradesh and Karnataka are "fervent purchasers" of whitening creams.

4. L'Oreal, the makers of White Perfect – and the brand whose ads were banned for including misleading, heavily airbrushed images of actresses Julia Roberts and Rachel Weisz and supermodel Christy Turlington - spent a whopping $5billion on their advertising campaigns in 2011.

The Indian whitening cream market is expanding at a rate of nearly 18% a year. The country's largest research agency, AC Nielsen, estimates that figure will rise to about 25% this year - and the market will be worth an estimated $432m, an all-time high.

With the Indian middle class expected to increase 10-fold to 583 million people by 2025, it looks as if things will only get better for the fairness peddlers.
Deconstructing Media Messages

"What could constitute this obsession despite legitimate concerns raised by medical experts and dermatologists on the effectiveness and long term affects of these products?" wonders Dr. Sridhar.

She shares that her interest in educating consumers, especially parents, on deconstructing messages is because, "Children grow up with these preconceived ideas of beauty, which are modeled by their peers and parents. A lot of parental monitoring, friendly chats with kids and advice is necessary so that this wrong notion of beauty and overemphasis on external appearances are curbed."

As parents, and as responsible consumers, we need to be self aware and navigate through this complex media environment. The next time you see an ad, ask yourself these three questions:

1. Who created the media message and what medium or technique was used to convey the message?

2. What subtexts, bias, spin, or misinformation does the message convey?

3. Which of the following persuasion technique is employed by the ad: fear, humor, testimonials, celebrities, bandwagon, scientific evidence or diversion?

On Saturday, the 28th of July, 2012, Dr. Susan Sridhar is heading a workshop conducted by Mom's Space, a Women of Worth initiative, for moms and dads who would like to learn more on deconstructing media messages and exploring the impact of media on their child's self worth.

Call 044-42643036 or +91-90942 26015 or send an email to [email protected] to sign up for the workshop.

Lydia Durairaj is an activist with the 'Dark is Beautiful' campaign that seeks to draw attention to the unjust effects of skin colour bias and also celebrates the beauty and diversity of all skin tones


Trending Now: