Laxman's controversial cartoon on anti-Hindi agitation draws ire of Tamil parties
13-June-2012
Vol 3&nbsp|&nbspIssue 23
A cartoon lampooning the anti-Hindi agitation that rocked Tamil Nadu in 1965 has united the political parties in the state to demand its removal from the class 12 NCERT textbook.
Tamil Nadu Chief Minister J. Jayalalithaa Wednesday urged the central government to remove from a Class 12 NCERT textbook the cartoon about the anti-Hindi agitation that rocked the state in 1965 as it defames Dravidian movement leaders like Periyar, C.N. Annadurai and others.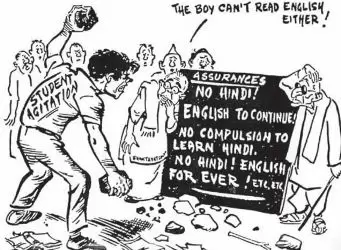 The controversial cartoon
The cartoon by famed cartoonist R.K. Laxman appears in the Class 12 Political Science textbook prepared by the National Council of Educational Research and Training (NCERT).
In a statement issued here, Jayalalithaa said: "Contrary to the photograph that is published in the book that shows the true nature of the anti-Hindi agitation, the cartoon is published hurting the sentiments of the Tamil people."
She said the cartoon defames the leaders of the Dravidian movement like Annadurai, Periyar and others.
According to her, photographs were better to teach students about the Dravidian movement and condemned the publication of the cartoon.
Recalling that the anti-Hindi agitation of the 1960s was one of the reasons for the change of rulers in the state, Jayalalithaa said the cartoon denigrates the protest.
On Saturday, DMK president M. Karunanidhi also had urged the central government to remove the anti-Hindi agitation cartoon from the NCERT textbook as it hurt the Tamil people's sentiments.
DMK spokesperson T.K.S. Elangovan said: "I have asked my people to get all the Political Science textbooks of NCERT for checking. Cartoons should not form part of any textbook."
Elangovan said cartoons are a comment by a newspaper on an event and their relevance is of a temporary nature.
"Putting them in textbooks would result in distortion of history and the students getting confused," he added.
Tamil Nadu witnessed serious anti-Hindi agitations across the state in 1965, resulting in several deaths in police firing on the protestors. The agitation spearheaded by the DMK was one of the major reasons for the Dravidian party coming to power in the state in 1967, displacing the Congress.
Even during the 1930s - prior to Indian independence in 1947 - the erstwhile Madras Presidency witnessed anti-Hindi agitations when the then Congress government wanted Hindi to be introduced as a subject in schools.
MDMK general secretary Vaiko also demanded the immediate removal of the controversial cartoon from the NCERT textbook on the grounds that it distorts history and hurts the sentiments of the people.
He said even C. Rajagopalachari, who first advocated teaching of Hindi in schools in the 1930s, later opposed it in the 1960s.
The cartoon by cartoonist Laxman gives an impression that the agitating students do not understand even English while they are agitating against Hindi. - IANS
Wish to share your story?
Trending Now: