Protests rock India against petrol price hike
24-May-2012
Vol 3&nbsp|&nbspIssue 21
Street protests rocked parts of India against a sharp hike in petrol prices that the opposition denounced as an assault on the common man.
Both in metros and smaller towns, opposition activists took to the streets raising slogans against the government and, in some cases, clashing with police.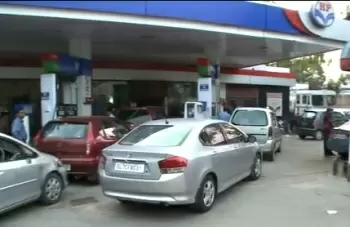 The BJP-led National Democratic Alliance (NDA) has called for an all-India strike May 31
Petrol prices have gone up by Rs.7.50 a litre. Consumers in Bangalore and Hyderabad will now pay over Rs.81 -- due to higher taxes.
A 12-hour bandh called by the Left Democratic Front shut down parts of Kerala, where even the ruling Congress expressed unhappiness over the hike in petrol prices announced Wednesday.
A state-owned bus was stoned by a crowd at Kollam, about 60 km from Thiruvananthapuram. Public transport went off the roads and attendance in government and private offices was thin in the state.
The Trinamool Congress, which has attacked the government for increasing petrol prices, took out a massive rally in Kolkata. Railway Minister Mulul Roy was one of the marchers.
Communists staged separate protests in the city.
Some 100 odd people gathered in Mumbai's Juhu area holding placards and demanding that the price rise -- effective from midnight Wednesday -- be rolled back.
Communist activists organised rallies all across Tamil Nadu, as well as in the capital New Delhi.
In Pondicherry, AIADMK members organised a novel protest, with bullock carts ferrying two-wheelers to show that petrol was now beyond the reach of the middle class.
A Bharatiya Janata Party (BJP) woman activist suffered burns while setting fire to an effigy in Uttar Pradesh.
The BJP-led National Democratic Alliance (NDA) has called for an all-India strike May 31.
In Mumbai, where the BJP national executive opened its meet Thursday, Gujarat Chief Minister Narendra Modi described the higher petrol prices a "gift" from the UPA-II government on its third anniversary.
The opposition continued to hit out at the government.
The four Left parties, including the CPI-M, Thursday called the government move "a savage attack" on the people.
The steepest hike ever in the price of petrol was announced a day after Prime Minister Manmohan Singh warned of "difficult" decisions his government would have to take to mop up revenue.
In the Kashmir Valley, no one was willing to buy the official line that the price hike was an independent decision of the oil companies.
Many feared that diesel and LPG prices may also shoot up.
"The worst is yet to come. A hike in diesel and cooking gas rates will spell complete disaster for us," said Srinagar resident Shabir Ahmed, 29.
Protests and demonstrations took place in many parts of Odisha. In Bhubaneshwar, the youth wing of the BJP organised a motorcycle rally, and slogan-shouting people gathered outside petrol pumps. - IANS

Trending Now: