'If the Prime Minister wants to avert a man-made disaster, the time to act is now'

21-May-2012
Vol 3&nbsp|&nbspIssue 20
The Supreme Court-appointed Empowered Committee in its report stated categorically the Mullaiperiyar dam was safe.
While inspecting the dam, two experts of the committee, former chief engineer of Central Water Commission, DK Mehta, and former secretary to Union Ministry of Water Resources, caused the drilling of seven holes six inches in diameter and 190 feet deep in the 1,200 feet long main dam and one whole in the 440 feet long baby dam to collect samples for scientific examination of the dam's structural safety, but left the gaping holes unfilled.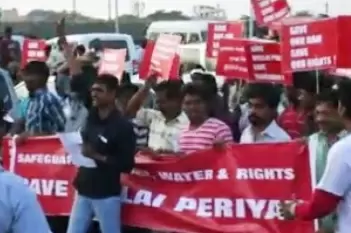 The demand by Kerala to pull down the existing dam to make way for a new one had sparked wide protests in Tamil Nadu
The demand by Kerala to pull down the existing dam to make way for a new one had sparked wide protests in Tamil Nadu
A team of Tamil Nadu PWD engineers who tried to fill the holes were chased away by the Kerala police. With the southwest monsoon about to set in, these unfilled holes can weaken the structure of the dam.
More importantly, these holes are a tempting invitation for anti-social elements backed by Kerala politicians determined to have the dam demolished to plant explosives and bring the structure down.
The dam was built 116 years ago by Madras Province on 8,000 acres of land in Peermedu taluk in Idukki district given on 999 years lease by the erstwhile ruler of Travancore, now a part of Kerala State.
The dam is maintained by the Tamil Nadu government and the State police guarded it until 1979 when the AIADMK government of MG Ramachandran surrendered the security to Kerala police.
As all political parties in Kerala launched an agitation six months ago to demolish the Mullaiperiyar dam and build a new one on Kerala territory and attempts were made by youth groups to damage the existing dam, Tamil Nadu Chief Minister Jayalalitha wrote to Prime Minister Manmohan Singh, seeking immediate deployment of Central Industrial Security Force at the site. The Centre chose to remain silent, hoping the problem would sort itself out.
Considering the violent reception the report of the Empowered Committee headed by AS Anand, former Chief Justice of India, received in Kerala, the Centre can no longer afford to ignore Tamil Nadu's request to entrust the security and safety of the Mullaiperiyar dam to the CISF.
The State has already filed a petition in the Supreme Court seeking certain directions to the Kerala government for carrying out routine maintenance and repair works as it was obstructing its PWD personnel from carrying out their work.
The rest of this month is the most appropriate time for carrying out these works as the southwest monsoon, according to the meteorological department, is expected to set over Kerala on 1 June.
If the Prime Minister wants to avert a man-made disaster, the time to act is now. It brooks no delay.
Sam Rajappa is Consulting Editor of The Weekend Leader
Also Read
'Mullaiperiyar dam should not meet the fate of Babri Masjid'




Trending Now: