'Abducted Sukma collector Alex Paul Menon used to be a student journalist'

V Jagannathan
&nbsp | &nbsp Chennai
28-April-2012
Vol 3&nbsp|&nbspIssue 17
Had he not been a bureaucrat, Chhattisgarh's Sukma district collector Alex Paul Menon would have been a journalist, says an old friend, recalling how he switched career tracks to focus on his commitment to uplift the downtrodden.
Menon, 32, a 2006 batch Indian Administrative Service (IAS) officer kidnapped by Maoists, was a student journalist with the Ananda Vikatan magazine group during his college days and used to cover Dindugal in Tamil Nadu.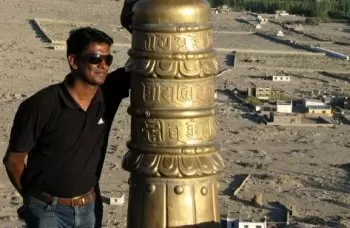 Alex Paul Menon was a student journalist in a leading Tamil magazine
"I met Alex during our Vikatan Student Journalist Scheme training camp in Madurai. At that time he used to say he chose journalism to uplift the poorer sections of the society by stressing the importance of education," said M. Thamaraikkannan, who was also a student reporter for the Ananda Vikatan group at that time.
But Menon -- who belongs to Tirunelveli and who has been in captivity since April 21 -- realised that the poor and downtrodden should first know how to read and hence decided to try for the civil services instead.
"Alex found journalism intruding into his education and he was not able to devote sufficient time. Alex always maintained 80 percent score in his engineering course. He told me that he would take the civil services route to achieve his goal rather than journalism," Thamaraikkannan, a senior journalist, added.
"Even during normal conversations Alex used to comment about lack of education and its impact on the poor. That way he is very committed person," Thamaraikkannan said.
He described Menon as a jovial person who dances very well.
"Anna (elder brother in Tamil) is the role model for many of us. He is a strong person and always used to stress the importance of education," Menon's cousin C. Anand said over phone from Chhattisgarh.
Anand has gone there from Tirunelveli to help Menon's wife Asha Paul Menon in this hour of crisis.
"Anna used to participate in competitions and has won several prizes during his student days. He is good at studies. Similarly Akka (Menon's sister and elder to Anand) is also good at studies. She is a Siddha doctor living in Mysore," Anand said.
He said Menon's father A. Vardhas, a retired school headmaster, has taken the news of his son's abduction very badly.
DMK treasurer M.K.Stalin Tuesday visited Vardhas, who is staying with relatives here, and assured him of necessary support.
While Asha, three months pregnant, is stoically facing the situation in Chhattisgarh, their family in Tamil Nadu is spending sleepless nights.
"We are all worried about his safety and about the health of Asha who is three months pregnant. Asha is bravely comforting us. She is asking us not to worry and their ordeal would end soon. But my wife is always teary eyed," said T.R. Venugopal, Menon's father-in-law.
Speaking about Asha, he said: "She is a brave girl. She completed her engineering and MBA and has worked with a couple of American companies prior to her marriage. - IANS

Trending Now: