Truth and reconciliation eludes Gujarat, where there is no remorse or retribution
09-March-2012
Vol 3&nbsp|&nbspIssue 10
I stand silently in front of the burnt out shell of Sairaben's house in Ahmedabad's now infamous Gulbarg colony, scene of one of the many massacres in 2002. It is 10 years after.

On the verandah, Sairaben's sister-in-law sobs quietly. "They killed her three children," she explains. "My son also. He was 24 years old then. Would have been 34 now, probably would have been married. I would have had grandchildren."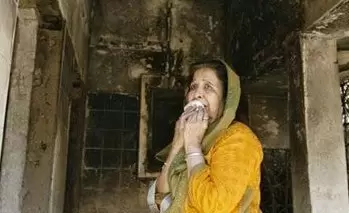 Ten years after the Gujarat pogrom, Muslims in the State are still haunted by horrific memories of the riots (Photo: Infochange News and Features)
It's an upper middle class housing colony and with a powerful MP like Ehsan Jafri living in Gulbarg Society, you could understand the other local Muslims flocking there for safety.

"We were sure Ehsan saab could save us," Sairaben continued. "But the mob surrounded the colony. Smashed down our doors and began hitting everyone with iron rods.

They cut Ehsan saab into pieces. Hacked him with knives. And burnt him to cinders. They threw all the bodies together and set fire to them. We couldn't even bury our dead."

I was in Ahmedabad to commemorate the 10th anniversary of the 2002 pogrom against Muslims after the burning of the S-6 coach of the Sabarmati Express in Godhra, in which 59 Hindu pilgrims were horrendously charred to death.

In March 2002, I was invited with other journalists to investigate the atrocities against women by The Citizens Initiative, Ahmedabad. Our Womens' Commission, headed by Dr Syeda Hameed, Member, Planning Commission, produced a report The Survivors Speak which subsequently appeared on the websites of most newspapers.

Ten years later, I felt I simply had to be there. In sympathy, sadness and solidarity.

Harsh Mander, who leads a campaign for justice and peace, is pessimistic about the situation 10 years after the genocide.

"We are working closely with the survivors. It's not just the memory of the brutality, there is a total lack of remorse permeating the entire state. The Tehelka sting operation revealed the depths of hatred here.

"Modi's Sadbhavna should have begun with an apology. But at no stage has he said 'We failed'. Only a deafening silence. They compare 2002 to 1984, but the PM apologised to Sikhs for 1984.

"In the absence of genuine remorse, the pain persists. Around 200,000 people were displaced. Of them, 30,000 are still in relief camps. Not one camp was set up by the government.

"Never in the history of India has a government refused to open camps for victims. People cannot return. They are not welcome back in their villages. There is a social boycott of Muslims in village after village of Gujarat."

Mallika Sarabhai, internationally acclaimed danseuse, writer, activist and filmmaker, is a woman who dared to defy the might of the BJP in its heartland, Gandhinagar, when she contested a 2009 election against former PM LK Advani.

She says, "Unless a concerted, proactive and long-term effort is made in the public and private spheres in Gujarat by parents and educational institutions, communal harmony and joint living will never be a reality."

Fr Cedric Prakash, who rescued victims from mob fury both in the Sikh massacre of 1984 as well as in Gujarat in 2002, finds it difficult to accept the attitude of Gujarati society which refuses to condemn Modi.

"I wonder too about the corporate leaders who put business before ethics and morality," he says.

Prakash continues, "Rationalisations by the educated elite and those afraid to deal with the past abound... '2002 was an aberration', they say: 'Look at the way we have progressed since -- roads, shopping malls, flyovers... industrialists want to come only to Gujarat'. Or else they say 'Didn't the Muslims deserve it? They are terrorists'."
Still, he feels the tide must turn.

The Gujarat High Court issued a contempt notice against the Modi government for failing to compensate victims whose shops were gutted during the burning spree in 2002.

The Times of India, Ahmedabad, carried an enormous banner headline across its front page stating 'ACTION, REACTION, INACTION' with a timeline recalling the genocide, beginning with the Godhra carnage on February 27, 2002.

In an Ahmedabad newspaper editorial, Prakash points out that on February 8, 2012, the Acting Chief Justice of Gujarat, Bhaskar Bhattacharya, gave a landmark ruling: "Gujarat government's inadequate response and inaction (to contain the riots) resulted in an anarchic situation which continued unabated for days …the state cannot shirk its responsibilities."

"The truth will prevail," says Prakash.

Teesta Setalvad, gutsy social activist, would like to focus on the victories of this fight for justice for the victims. She says, "We've had partial success. In 10 years we have chargesheeted 15 cabinet ministers and 28 IASIPS officers.
"Modi has been summoned by the Special Investigation Team on orders from the Supreme Court. That's historic. I'd rather remember that today than the negatives."

But for the most part, the victims are depressed and pessimistic. With reason. Razia (name changed), a survivor I met, points to her parents' farm. Her words sum up the feelings of Muslims in Gujarat.

"See, they killed my father, mother, brothers, uncles. All our women were raped. The men who murdered my father are in possession of his house and fields. The rapists swagger around free, gloating, laughing at us as we cower in terror. They jeer at us – 'If you step out of line, we will repeat 2002. That's life for us Muslims in Gujarat'."

Repeatedly activists and victims point out that for Gujarat to heal, we need truth and reconciliation. But for truth and reconciliation there must be remorse and retribution.

Victims must get back their farmlands, their homes and their businesses. Or get adequately compensated for it. People who were middleclass or wealthy now live in colonies in penury.

Widows from once wealthy families work as domestic workers scrubbing floors and pots and pans. There is anger, resentment and despair. And that will continue till justice arrives.

Whether justice can be done while Modi continues in power is an entirely different question. - Infochange News & Features


Trending Now: