Rally in New York seeks justice for 2002 Gujarat riot victims
Arun Kumar
&nbsp | &nbsp New York
05-March-2012
Vol 3&nbsp|&nbspIssue 9
Hundreds of Indian Americans of diverse religious backgrounds held a rally and a candlelight vigil in front of the Gandhi statue in Union Square to remember the victims of the 2002 anti-Muslim Gujarat riots.
"We want Gandhi's Gujarat not Modi's Gujarat," they chanted at the rally Saturday night pointing to Gandhi's statue.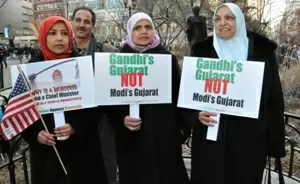 Protesters at a rally in front of the Gandhi statue in Union Square, New York, Saturday holding placards condemning Modi (Photos: IANS)
Cries of "Narandra Modi, Has Got to Go, Got to Go," and "Halla Bol, Halla Bol, Narandra Modi pe halla bol," rent the air at repeated intervals.
The rally and the vigil were organised by the Coalition Against Genocide (CAG), the broad-based alliance that was instrumental in getting the diplomatic visa of Gujarat Chief Minister Narendra Modi revoked, for his alleged role in Gujarat riots.
Opening the rally Rev Mark Lukens, president of the Interfaith Coalition, reminded the audience of the grave dangers of forgetting the message of Gandhi. "In the very same way as Gandhi did, we need to defend the rights of every community," he said.
Shaik Ubaid, a founding member of the coalition said that the coalition is expanding and that more American interfaith and civil rights leaders and groups are supporting it.
CAG also announced that as part of its six month mobilization programme a "Failure of Justice" campaign will create an intensive focus in Washington DC on the impunity that the Modi government and party leadership has enjoyed in Gujarat in spite of overwhelming evidence in the public domain.
"The House resolution sponsored by Congressman Keith Ellison is just the beginning," said Saeed Patel, CAG member. "We will ensure that the record in Washington reflects the failures of the legal system in India and the continuing anti-minority violence there," he added.
Bhairavi Desai, the president of the largest Taxi drivers union in the US, said the horror of 2002 marked the convergence of labour and civil rights struggles across the globe.
"An injury to one is an injury to us all," she declared, "and we bear the responsibility to fight till justice is served." - IANS

Trending Now: