Stripped naked in public 5 years ago, tribal girl awaits justice

25-December-2012
Vol 3&nbsp|&nbspIssue 51
As the gang-rape protests rocked New Delhi last week, The Weekend Leader received an email from a reader, who wondered why the media ignored equally brutal incidents involving other women.

The reader mentioned an incident that took place in Guwahati a few years ago when a tribal girl was stripped naked and beaten in public. The incident was reported in the media, but the reader's concern was whether the girl had got justice.
t was a question that the nation had to answer. The Weekend Leader raised the issue in an article that went viral on Facebook. Readers responded with anger and commented that the perpetrators of the crime had to be hanged or shot.

But we did not know who the woman was or whether she had got justice. The Weekend Leader set out to trace the girl, who was later identified as Laxmi Orang. And has she got justice?

Far from it!

The 22-year-old girl told Akash Bisht how the authorities humiliated her, made her run from pillar to post, and even offered Rs.2 lakhs as 'compensation' to hush up the case.

More than five years after the incident, Laxmi is still awaiting justice. Akash tells her story.

Similar to any of the teenage girls protesting on Delhi streets, Laxmi Orang too felt safe going to Guwahati for a rally organised by the All Assam Adivasi Students' Association (AAASA) against the delay in granting of ST status to tea plantation workers of Assam.

It was for the first time that she was travelling far away from her village, Japowari Orang Basti in Sonitpur district. There was no reason for fear as she was going to the city which she had heard about only in stories; a city where the CM lived; state police and army was stationed and the general public at large was considered more civilised as compared to the poor, illiterate plantation workers of her small village.

What's more, she was accompanied by her family and thousands of other tribals who had come together to put forward their demand. But little did she know that the city she was so much in awe of would completely change the course of her life and leave a scar on her psyche that would never heal.
Laxmi gets into bouts of depression and sometimes cries inconsolably for hours, says her brother
On November 4, 2007, soon after the protest march began in Guwahati, Laxmi was walking with fellow protestors when a young man rammed his bike into the crowd. One of the protestors sustained severe injuries on her leg.

The crowd caught hold of the boy and asked him to take the girl for medical treatment. The boy refused and the locals supported him, which led to minor violence between the two groups. Soon the scuffle turned into a major riot and police and locals resorted to violence aimed at the adivasi protestors.

"We had no arms as we weren't expecting any violence. If we wanted violence, we would have carried some weapons, at least a lathi. If we were armed we would have fought back, but the onslaught by the local hooligans was brutal," says Laxmi.

The police soon resorted to lathicharge and lobbed tear gas shells and the crowds started to run helter-skelter.

Accompanied by her sister, Laxmi ran for her life too and in the process got separated from rest of the crowd. Fearing for her safety, she decided to seek help from some policemen standing nearby.

Her sister dissuaded her but Laxmi thought it was safe to approach the police. "The media was present in large numbers so I knew the police would help, but suddenly some boys on bikes caught hold of us. I somehow managed to get my sister to safety, but the boys got me while the police chose to look the other way," she recalls.

Then began the cycle of violence from which Laxmi has not yet recovered. Stripped naked and brutally beaten, she was chased by hoodlums on the streets of Guwahati in broad daylight.

"People were laughing when these boys chased and beat me around the streets of Guwahati. I was naked and begging for help, but no one came to my rescue," she says. Suddenly, she becomes inconsolable, "I just can't forget that day. Nanga kar diya mujhe (They stripped me naked)," she keeps repeating the words.

"Seeing me running around naked, a man took off his shirt and gamcha (a traditional scarf) and gave it to me. He asked me to flee. The boys fought with him and asked him why he was helping me? They assaulted him as well. Meanwhile, I managed to flee the place," she adds.

Laxmi took shelter in a hospital and was later rescued by her family and a local MLA. "I just wanted to get back home. I couldn't believe what had just happened to me," she says.
Only 17 then, Laxmi was traumatised after her naked pictures begging for help were splashed across the newspapers and TV channels.

Public outrage grew after these images were beamed live and succumbing to the pressure, the government announced an enquiry commission headed by Manisana Singh that was to submit its report at the earliest.

However, not much came from the commission. Laxmi says she was not given a proper hearing and alleges that she was asked to change her original statement.

Later, Laxmi was called by the police to identify the suspects, but she declined. "I had already gone through so much and how do they expect me to remember faces of people from a mob that attacked me. The whole incident was captured on TV cameras so what other proof did they need?" she wonders.

Laxmi was offered a cheque of Rs 2 lakh by the state government. She refused to accept it. "Can any amount of money bring me back my respect? Can it stop people from making lewd comments about me? Can it give me back my innocence? Can it take away the nightmares of being chased naked on the streets of Guwahati?" she reasons.

Many NGOs and political parties started to queue outside Laxmi's house and tried exploiting the issue for their own good. Politicians persuaded her to fight elections and she too willingly joined the bandwagon. "I thought by joining politics I would be able to get justice," she adds.

However, her foray into politics didn't pay back and she left it for reasons that she doesn't want to disclose. "I started believing that since I am a poor adivasi girl, I would never get justice," she says.

Jawahar, Laxmi's younger brother, told theweekendleader that ever since the incident took place, Laxmi gets bouts of depression and sometimes cries inconsolably for hours.

A ray of hope appeared few months ago when a team headed by Mamta Sharma, chairperson of National Commission for Women, visited Guwahati to enquire about an incident in which a woman was assaulted by some men outside a pub.

Laxmi tried to meet the NCW members, but she was snubbed by Sharma who asked her to come and meet her in Delhi.

"She had come to Guwahati and wanted me to see her in Delhi. How did she expect a poor tribal woman like me to travel to Delhi? Only after I approached the media, I got a call from Sharma asking me to visit her. It was already 11 pm and I had returned home. There was no way I could go to meet her."

Jawahar adds, "The NCW delegation came and met a woman who was drinking inside a pub and was then molested by miscreants. My sister was only protesting when the incident happened, but no one came to meet her. She has been running from pillar to post for justice, but her pleas fell on deaf ears."

Miffed with the way NCW has been conducting itself, Laxmi says that NCW should fight for other women and not just for rich and influential. "Is it my fault that I am a tribal? Why are their norms of justice different for tribals? Should I call NCW racist?" she asks.

Jawahar too gets emotional on the issue and adds that the molestation victim outside the pub got sympathies of Sonia and Rahul Gandhi while no one wants to talk about his sister. "Sonia is also a woman, so why didn't she take up my sister's case? Is this how she wants the women of her country to be treated?"

Meanwhile, Laxmi isn't aware of the people who had been sent to prison or what happened to them. "I don't know what happened to them. No one ever told me anything. I don't even know if they arrested the right people."

Salkhan Murmu, a tribal leader and former MP from Jharkhand who supports Laxmi says the Assam government and other parties were involved in the incident as they do not want tea plantation workers to get ST quota. "It's a shame that the Assam government has done absolutely nothing to get justice for Laxmi," he says.
Gladson Dungdung, General Secretary of Jharkhand Human Rights Movement, came to Laxmi's aid soon after the incident and provided her with necessary funds as she wanted to study and fight her case.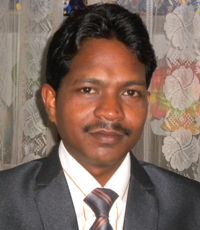 Gladson Dungdung
However, he is distraught with the treatment meted to her. "It's because of racial discrimination that adivasis are facing across the country. The core issue is the tribal question. I am surprised by what is happening in Delhi. I don't see these people coming out when adivasi women are paraded naked or when stones are inserted in their private parts.

"Why aren't these people talking about Laxmi or Soni Sori? They were also women. I don't know what kind of country we live in and is it the country of only the rich city dwellers?" he protests.

David Horo, an adivasi student leader says the culprits were apprehended by the police but were later released on flimsy grounds. "No one came to her aid. She released thousands of statements to the media but no one took up her case. It could well be a bias against the tribal population of the state. While people are protesting in Delhi about the brutal gangrape, Laxmi received no such support. People need to come out against heinous crimes committed against women who live outside New Delhi also," he says.

Meanwhile, the financial status of Laxmi's family is in tatters. She doesn't have enough money to fund her education. Earlier, she funded her studies by working as daily labourer, but soon after the incident her parents asked her to stop going to work.

"I can't go and work because people pass lewd comments and I feel as traumatised as I was when the mob attacked me. I am just confined to the four walls of my house and rarely venture out. The trauma will only end with my death."

Laxmi says she is still alive and dreams that some day she too would get justice. "Zinda hoon par kab tak? (I am alive but till what time I don't know..)"

Also Read
It is time society unites to seek justice for Laxmi Orang as it did for the rape victim


Related Stories: